Junior Drum Club
Open Enrollment for Kids ages 4-7.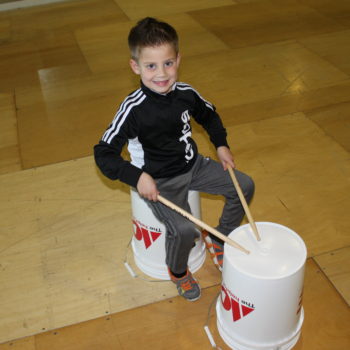 Upcoming Classes
All classes will have a cap of 20 kids
Get your child moving and grooving with OSP!
Junior drum club (JDC) is a club designed with the purpose of giving kids ages 4-7 the opportunity to learn music in a structured environment, with instruction by members of OSP. This class is designed to have both the child and his/her parent(s) together, side-by-side learning a variety of different drum rhythms and rudiments while making music together. Buckets, trash cans, and a variety of homemade instruments are the tools used for instruction during JDC.
COST
$25 per class  – price is for both the child and parent(s)
There is a cap of 20 kids per class.
Enrollment is strictly online, on a first come first serve basis.
Enrollment will close each month after 20 students have been registered.
Walk-in registrations will not be accepted.
LOCATION
Papillion Landing Community Recreation Center
1046 W Lincoln St, Papillion, NE 68046
Registration is open.
For this months Junior Drum Club we are partnering with Papillion Landing, Papillion's brand new state of the art recreation center. Class will take place at 10am in the field house multi-purpose room, but we strongly encourage you and your child to arrive by 9:45am. Please follow the link below to register for JDC. Note: you will be prompted to create a user account for you and your child. You are required to do this in order to be registered for the class. This is a one-time registration which you can use for future JDC classes. Creating a user account does NOT make you a member of Papillion Landing, and you are not charged any user fee's. This is simply for liability reasons. If you have any questions, feel free to email us at omahastreetpercussion@gmail.com.
Drumming 101. Learn how to hold drum sticks and how to properly hit the drums. A variety of voice commands will be learned as well.
Simon Says...OSP STYLE! A simple call-and-response game using various drum rhythms.
Learn to count and play rhythms in patterns of 4, 8, 12, and 16 count phrases.
Opportunities to play on buckets, trash cans, shakers, and other standard OSP equipment.